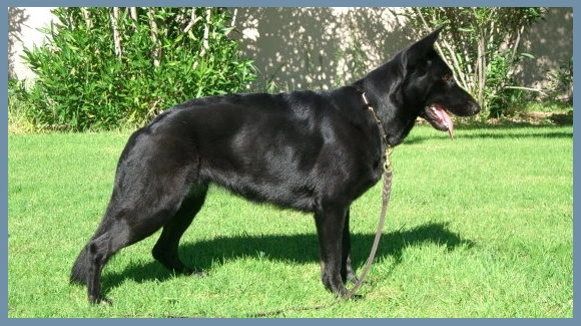 SG Gjeter av Xazziam SchH3 KK1 a-stamp/NZ ED-normal

Sire: Ufo van Guy's Hof SchH3 (Sire of the 2008 Vice World Schutzhund Champion)a

Dam: Hera vom Fichtenbrink SchH3/IPO3

Gjeter is an exceptional European German Shepherd import bitch out of Belgian and West German Working lines. Her pedigree includes top European producers as well as dogs that hold the highly regarded KNPV ring sport titles. Her famous sire, Ufo van Guy's hof has produced a high number of progeny that have competed at the top National Schutzhund levels as well as in the prestigious Schutzhund World Competition (WUSV).
Gjeter shows very good structure and type. She is solid in temperament and nerves. She enjoys people and loves playing with children of all ages. She most certainly loves being part of the family, interacting with people and children. Although she enjoys the home environment there is no question what she is about. She is a versatile dog with strong drives that needs to work!

Through her Schutzhund career she has shown to be tough and has proven to be very resilient. For protection she is confident and shows natural, strong guarding and full grips. Her athletic ability and extreme drives are to be desired. She shows a super dumbbell routine in obedience that has everything to do with her natural drives and strong retrieval instincts. On the track she shows an endless supply of enthusiasm. She enjoys the challenge of scent work and will push herself to the end.

Gjeter has achieved the highest level four times in Schutzhund. Our most successful accomplishment yet was High Scoring Female and High Scoring Female team at the 2008 Northwestern Regional Championship. We are looking forward to future competition with her Progeny.