May 18, 2008

New 4 1/2 month German Shepherd photos on the Puppies Page


Four Month Old German Shepherd Progress Report


So far all the pups are doing well and showing a love for Schutzhund. Ava in Colorado is like a classic German Shepherd...aloof but tolerant. She loves her scent work and loves to retrieve. Anniken in Maryland is also showing nice scent work and a love for the retrieve. She is also crazy about the water. Moe in Oklahoma is like a dual core processor...full of energy and always busy. One minute he is cocky and mischievous and the next a big ol' teddy bear. Larry and Curly are here with us. They are very different from one another. But one thing for sure they love food, the ball, scent work and are very handler devoted. Larry and Curly have a very nice puppy foundation in protection. They have taken a break since they are teething now and will start up once they turn one year. In the meantime they will continue with tracking and obedience.
14 week old puppy photos have been posted on the
photo gallery
page.

May 1st 2008

German Shepherd Training Videos

Alfred av Stavanger "Larry" My Natural - Obedience and Focus Foundation



Angus av Stavanger "Curly" showing calm full Grips. Protection Foundation with Joel Monroe and Obedience Foundation with Glenn Hansen





Ball Anyone?
Anniken av Stavanger "Nicky"is turning out to be a natural retriever just like her mom. The word from Maryland is that she has very good ball drive and very good hunt drive. She does not give up the search for the ball until she finds it. She also likes the water very much. She loves to retrieve sticks and drop them at Deborah's feet for a fun game of fetch in the water. If she looses sight of the stick she can be heard sniffing it out as she swims around in smaller circles until she finds it. Wow...she has Kway's nose. Just what we were hoping for. I hear it is really something to see. We might get lucky enough to see a video too.



German Shepherd Puppy warns of danger

Sweet Story from Colorado


We don't have any photos to post of sweet Ava (Dot) from Colorado. But her mom did tell me an amazing story. One night Ms Ava Mae was terribly restless. It was her bed time, but something was wrong. It seemed as if something was bothering her physically. But after checking everything was fine. Still she was disturbed. Diane checked around to see if anything around the house was wrong and sure enough there was. The garage door had been tripped and two of her other GSD's had not only gone out the garage, but off the property. Fortunately they were not far and they were called back in. After everyone was settled again Ava went fast to sleep. Little Ms. Ava Mae saved the night. We always knew she was special. Thanks for sharing Diane.

April 20th 2008

The Inevitable - 16 week German Shepherd Puppy "Moe" gets a home

On April 18th our little Moe took United Cargo to live in Oklahoma with Charles and his family. Who better to live with a family than Moe. He has always shown to be super confident with very nice drives and working ability. He is very balanced and has a nice way of settling down around the family. Moe has been a wonderful puppy and has always made us smile. This was certainly not easy since we had him for 13 weeks. But we are so excited to have found the perfect situation for him. He will work with Charles in Schutzhund at the OK Metro Working Dog Group. We've already heard that Moe has made quite the buzz at his new club and has dashed in like a champ. Thank you to Charlie and his family for giving him a great home.

April 14th 2008 -
Moe's new 12 week old obedience and prey drive video is up on the
Training Page
.
April 8th 2008

German Shepherd Puppies 10 weeks old

Like Mother Like Son

Well, well, well...it took me long enough to see it. Of course Glenn had it figured out at seven weeks. Curly is his mother's son and Gjeter is her father's daughter! This is our dream dog. Already Curly is showing to be almost identical to his mother. If he keeps it up, he may even receive the same KK1 breed survey rating that she has. He even has luscious dark eyes.

Gjeter has showed similar training patterns to her sire's, Ufo van Guy's Hof. It's almost identical from the dumbbells to the long bite and guarding in the blind.The Ufo progeny have a very sweet temperament. But when it's time for business...they are very attentive.
SG Gjeter av Xazziam SchH3 KK1-Dam Angus av Stavanger "Curly" - Son
Larry and Moe appear to resemble more of their Sire's lineage. Their sire Kway vom Posthorn is a super dog out of Asko von der Lutter a World Champion. The SV in Germany recently covered Asko in their membership magazine. It included many aspects of the dog. Out of 600 progeny produced by Asko von der Lutter, Kway vom Posthorn an Asko son and his handler Bill Kulla's photo was one of the few that were placed in the two page photo layout. Kway has been consistently producing dogs with good temperament that perform well in Schutzhund, Law enforcement, AKC and Search and Rescue.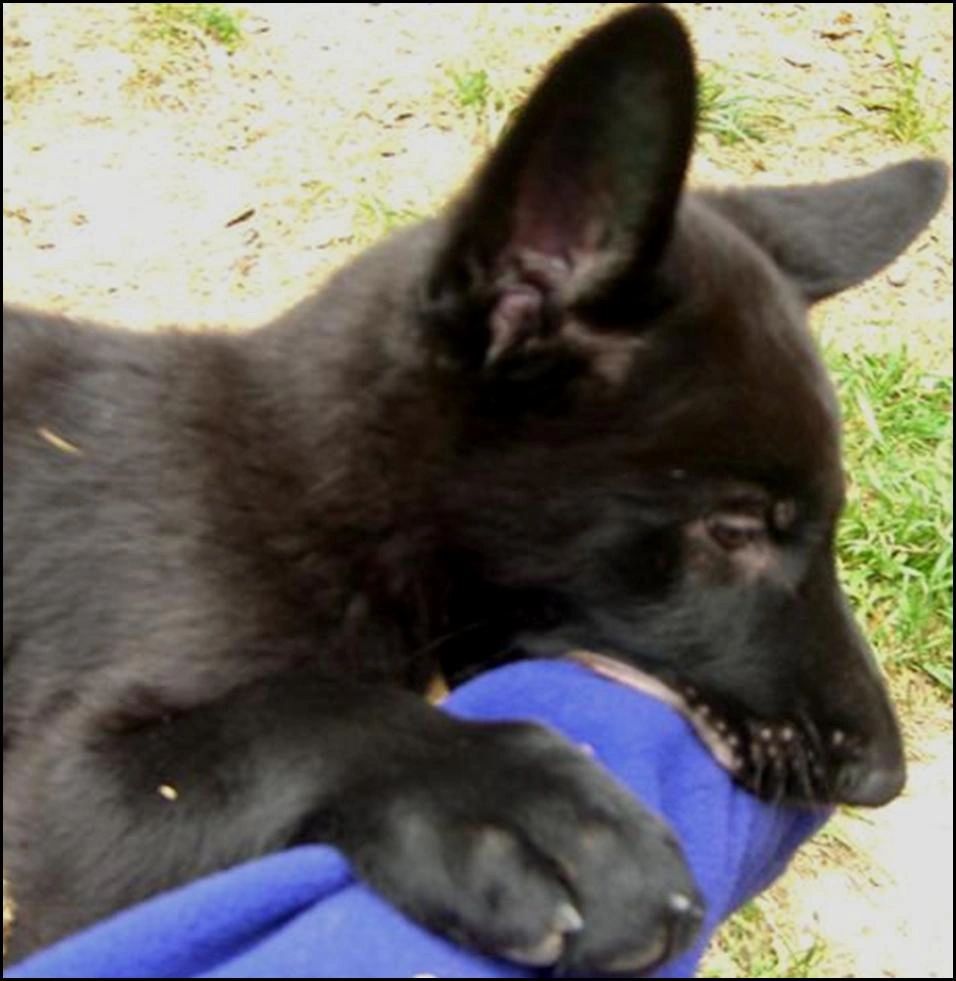 Alfred av Stavanger - "Larry" Arnstein av Stavanger - "Moe"



April 4th 2008 -
New Photos are in the
Photo Gallery
and new videos of Asko von der Lutter and Ufo van Guy's Hof are on the
Pedigree Page
.
9 week old German Shepherd Puppies - which puppy to choose

Eenie, Meanie, Miney, Mo - Larry, Curly or Moe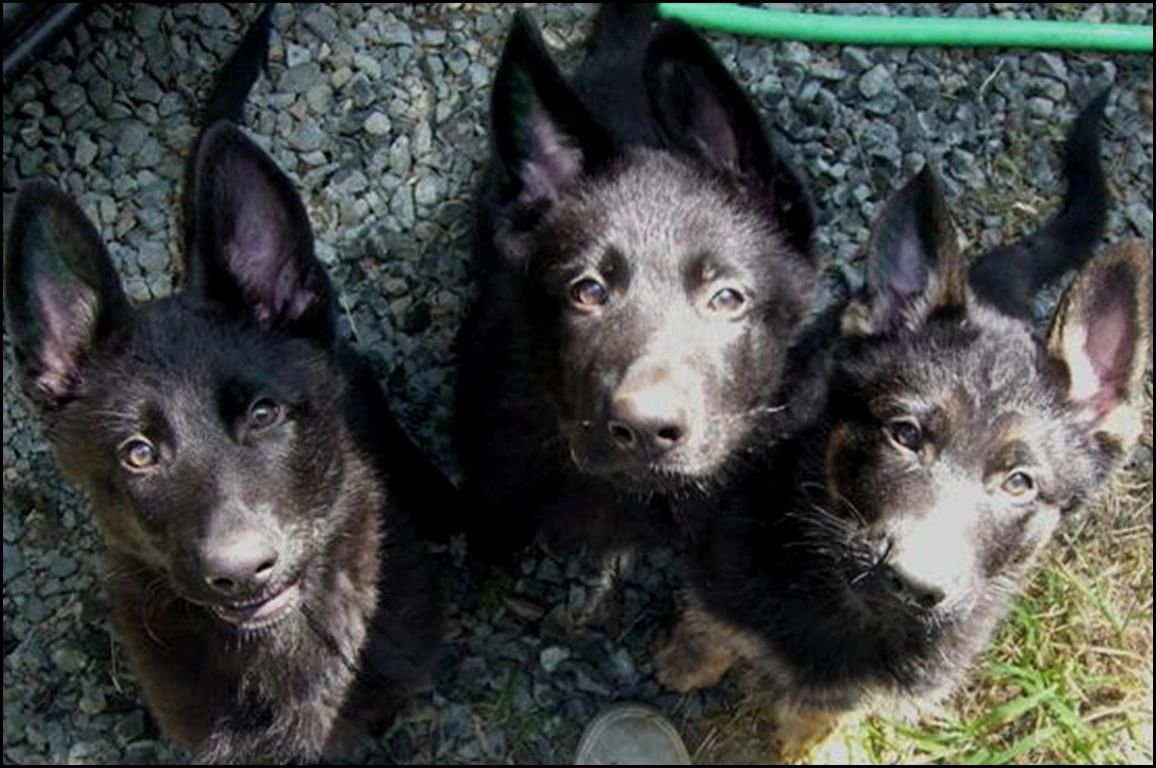 What a tough decision. We never imagined. Anyone of these pups will be great in canine sports. We've received numerous inquiries, but nothing that gives us the confidence that these fellas will receive the devotion they deserve. Luckily our first two puppy homes were more than we could hope for. They set a very high standard. Each have experience with Working Line German Shepherds, have participated in a dog sport and have arranged their life style to live with high drive dogs.
On another note...what you see in this photo is what you get. This is exactly the type of handler attention you will receive from these dogs. Even though they have been trained to make eye contact, these pups have always been very handler aware. The eye contact seen in this photo is true eye contact. They were not baited. Of course they do know at some point they will receive a reward, but they have been taught that reward will come through eye contact.
Puppy Availability