Kennel Stavanger Working German Shepherd Puppy Blog - 1 day to 2 weeks old
New whelps - New born puppies - GSD Puppy weight charts - Nursing Puppies - Teething - Learning to walk

2 1/2 week old German Shepherd Puppy Teething


The pups are teething now. Gjeter is spending less time in the whelping box and now we know why! They are biting everything they can get their mouths on. What ever it is, it always ends up in the very back of their mouths. Great news for Schutzhund! They are loads of fun to watch. They recognize us now and come running when they see our hands in the box. They get all riled up. They start biting and wrestling one another until after a short time they tucker out and close their eyes.


Now we're seeing a true size difference between the pups that were born larger and the pups that were born smaller. Curly takes the cake. No, we haven't been feeding him cake, but you would think so by looking at him. He is a big boy at 5 1/2 pounds at just under 3 weeks old. Here is an interesting little factoid. The distance between his eyes are 2mm wider than the rest of the litter. His are at 20mm apart and the rest of litter's are at 18mm apart with the exception of Dot at 17mm. This was a quick way to show that he is proportionately larger. Below is a chart of their weights taken today.
German Shepherd Puppy Weight Chart - 2 1/2 weeks

ID or Natural Markings

Nick Names

Weight

ID Left Mark


solid black

Larry

4lbs.12oz.

ID Right Mark


solid black

Curly

5 ½ lbs

Natural Marking


Black and Tan

Moe

5 lbs.

ID Tail Mark – Solid Black Female

Dot

4lbs.

No Mark – Solid Black Female

Nicky

4lbs. 6oz.
Click - for more puppy weights, up to Day 37
Two week old Head shots are posted on the Puppies Page. It's amazing how quickly they change.

2 weeks old - German Shepherd Puppy Development Learning to Walk Video




I don't think this is what Gjeter had in mind. The pups became mobile over night. What a treat!
German Shepherd Puppies Nursing

Milk Madness



Two weeks old German Shepherd Puppy Weight Chart
Man Mad ID or Natural Markings

Nick Names

Weight

ID Left Mark


solid black

Larry

4 ¼ lbs

ID Right Mark


solid black

Curly

4 ¾ lbs.

Natural Markings


Black and Tan

Moe

4 ½ lbs.

ID Tail Mark – Solid Black Female

Dot

3 lbs. 10 oz.

No Mark – Solid Black Female

Nicky

3 lbs. 10 oz.
Fun with Mom

Video of German Shepherd puppies playing in whelping box

1 1/2 week old German Shepherd videos
These are the first puppy videos taken of them under two weeks old. The lighting is not great, but it will give you an idea of their progress. The end of the video showing the puppies walking was taken today.
1 1/2 week old German Shepherd Puppy weight and development

Making Strides
As of last night the males weighed 50 ounces The females are both at 40 ounces, the same weight as the boys three days ago. The pups are just opening their eyes. They bobble their heads around to get a glimpse of their environment. They are also beginning to balance on their legs and usually topple over while making a shaky attempt to get to mom.
Mom is doing great. We can't get over how much she eats! She is showing interest in her human family again and enjoys a break from the litter. A nudge for a scratch is her way of reminding me that she is my dog and that she needs equal time too. A few fronts for treats makes her very happy. She shows that gleam in her eyes that tells me she could go forever, but I don't want her to forget that her priority is being a mom.

January 25, 2008 - 1 week old German Shepherd Puppy observation
Mile Stones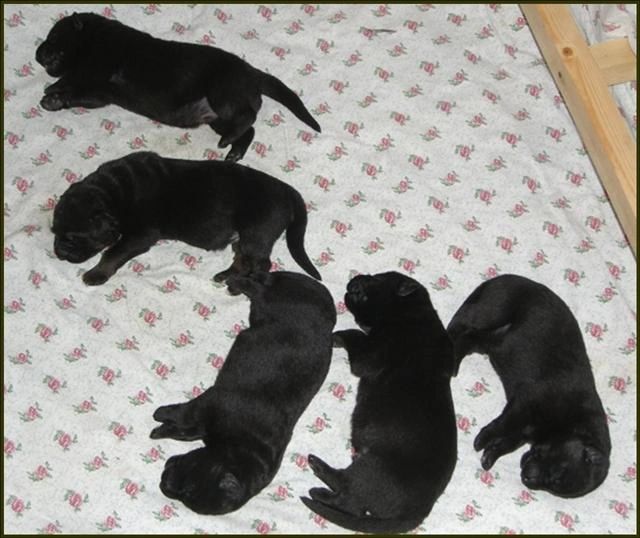 All the pups are wagging their tails now. One was observed scratching with his back leg.

German Shepherd puppy photo - 6 days old
Perspective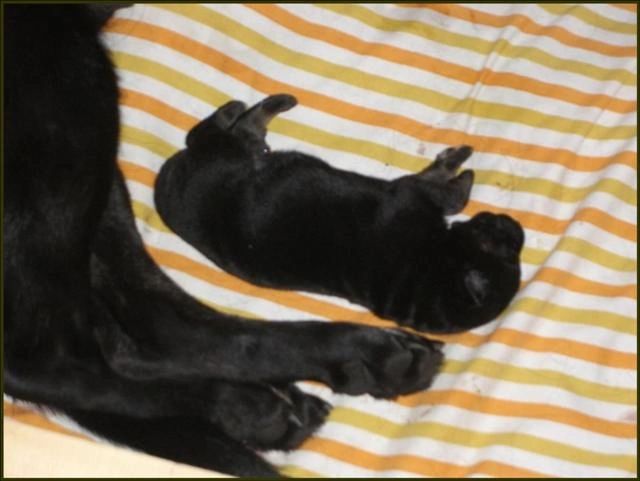 As of today the males are all the same weight at 36 ounces. The females naturally have a lower weight. There is a difference of 2 ounces between the two at 30 and 32 ounces. They are all on track. Here is a bit of perspective. This male was 28 ounces when the photo was taken of him lying next to him dam's foot.
3 days old - Nursing German Shepherd Puppies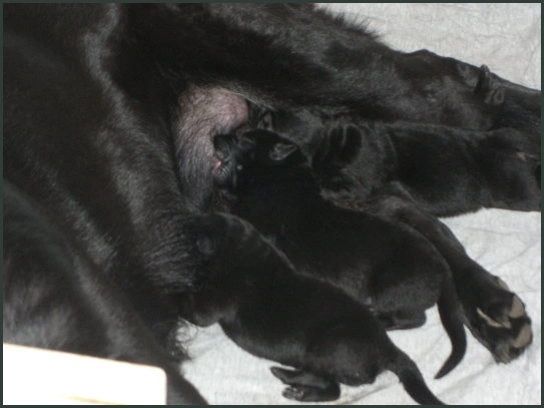 It's hard to believe these little pups were born only 3 days ago! The boys are like the three pigs. All three boys are 28oz now. The third born pup, a female is 20oz and the 5th born female is 24oz. Both females are equally active. Always rooting, nursing, chatting and on the go. The boys can always be found dining at their usual spot. they know where to find the large quantities of milk. Unlike their little sisters who find a spot under their mom's leg or arm. They prefer it be a little warmer since they have less meat on their bones.

We started the Bio-Sensor program on the pups today. The US Military developed a program to improve the performance of their canine units. AKA "Super Dog" Program. It was discovered that early neurological stimulation exercises could have important and lasting effects. These exercises kick the neurological system in to gear at an earlier than normal age. The early stimulation results in a dog with superior abilities to perform compared to their counterparts that did not under go the Bio-Sensor excercises.

We are doing all that we can to give these pups the brightest future.

1 day old German Shepherd puppies - Born in the USA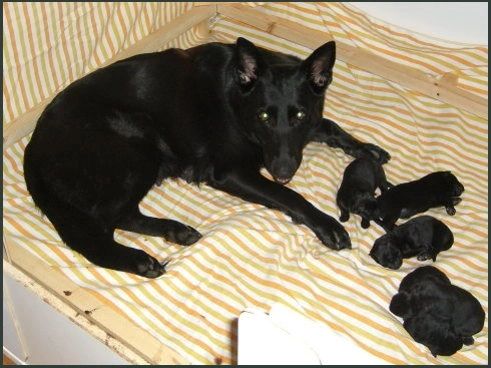 Gjeter had 5 pups on the 18th. 3 boys and 2 girls. Perfect size for a first litter. The first two boys were the largest at 20 oz. Gjeter is an excellent mom, tending to every need. All the pups are healthy, strong and vigorous. Mom knew exactly what to do as each pup was whelped. We assisted her with the first pup by opening the sac right away. We were a little anxious since she was in stage 2 labor for 12 hours. Talk about an event that will weigh on your nerves! Gjeter is doing very well. She is surprisingly lean again. It's nice to see that all the extra food went to the pups.
Full Term Pregnant German Shepherd inside Whelping Box

Whelping Box Design for Gjeter av Xazziam
We've completed the whelping box. Glenn made a great design and this one is built to last. It should be easy to clean with the white walls and removable rails. Gjeter is nesting in it here and there, but she still prefers to sleep in her crate.
She is getting quite tired now. She enjoys getting extra z's throughout the day. She is still enjoying her daily walks though. It's been a bit of a balancing act when it comes to food. She's the type of dog that will make you think she is starving even when she is stuffed.
Signs of pups on the way should be any day now. Not only can the pups be felt, but their movement can also be seen while watching her belly. They are very active which is not surprising.
Puppy Availability