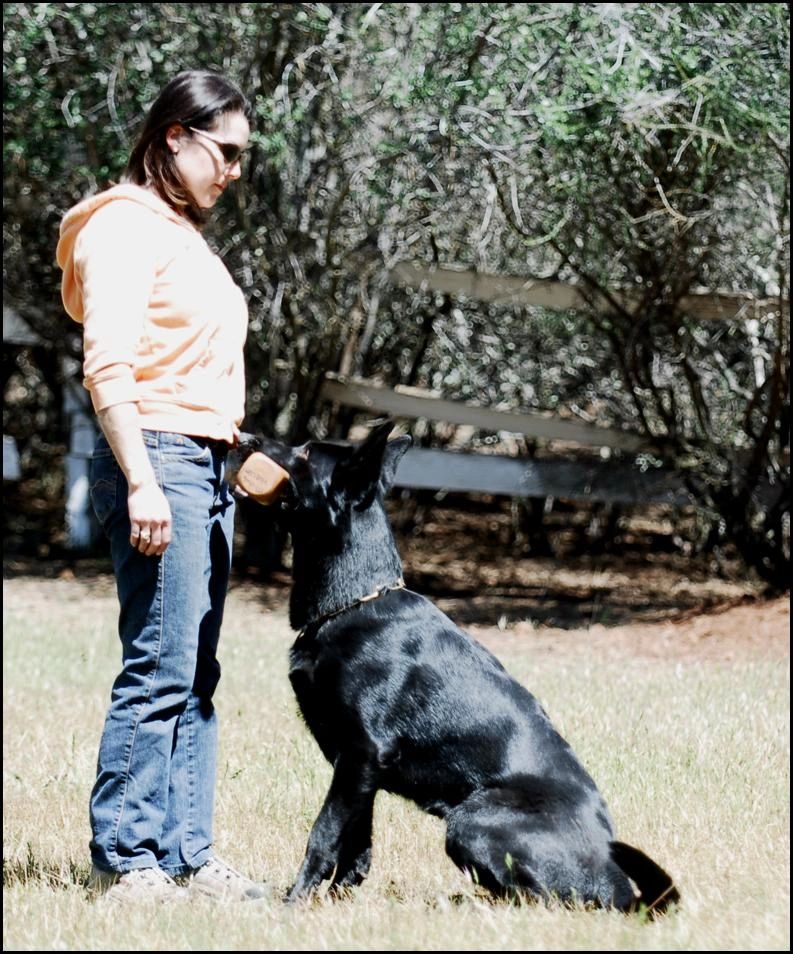 Spring break gave us a chance to get more training and photos in. This is Alfred av Stavanger "Larry" holding a Schutzhund 1 dumbell. At 14 months he already has a calm, firm hold. It's a hoot...he literally holds the dumbell forever. He even extends his neck as if to serve it.

Since Larry has the natural retrieve instinct, it was a no brainer to teach the dumbbell hold using the motivational method. THE KEY to this method is, to make the retrieve a mandatory exercise through the use of food. To achieve a reliable retrieve, through positive reinforcement, the dumbell can not just be used as a toy, by attracting the dog through his or her prey instinct. The dog must be required to take and hold the dumbbell without being encouraged (bribed) with a toy or food. This in turn, indicates that the command, "take" (hold the dumbbell), is required before the dog receives what he wants (the food reward).
At first Larry wasn't all that keen on the idea of taking a dumbbell in exchange for food. His preference was to either take the food for nothing or play with the dumbbell like a toy. I don't think a mandatory dumbbell exercise was on his agenda that day! So, to get things quickly moving along, mom (Gjeter) was brought into the training scene. Boy did that speed training up! All Larry needed was to see an example of another dog, working for a food reward, by holding the dumbbell. He figured it out quick and stepped up to the plate.
We have Denise Fenzi to thank for showing us this method. I used the same method, exclusively with my female (Gjeter) which proved to be a reliable training method. Her dumbbell routine was her strongest and most reliable obedience exercise even during two Regional Schutzhund Championships. She received high remarks from both USA Judge Al Kerr (2007) and Frank Mensing (2008). It is important to point this out; because, it is possible to make obedience a mandatory exercise without compulsion. Additionally, obedience should be mandatory even through positive reinforcement in order to maintain reliability.
* It is important to mention that Larry did undergo experimental force retrieve training after his positive reinforcement foundation. Although he handled force very well, it proved to be absolutely unnecessary and an undesirable way to develop reliability and speed. Larry's movements became robotic, to the extent that he appeared to be motivated by an outer force. Rather than showing a picture of a joyful dog that has been taught through balanced training, used to encourage and develop problem solving skills; Larry showed the same behavior that is observed when an animal is simply operating under duress. Although I will not consider using this method again, the time that was taken to teach a force retrieve is appreciated. Additionally, through force training, I developed a new respect for Larry. Even though he underwent harsh training methods, he continued to work through the stress and never held a grudge.