8 1/2 Month German Shepherd Schutzhund Progress


The news from Maryland is that Anniken gets better and better each time out with the protection helper. She is really enjoying herself. We are very lucky to receive such beautiful photos. Carolina V. is the photographer. She really knows how to make the dog come alive in her photos. Just look at the nice foundation work being done.
Anniken av Stavanger working with Marty on her training foundation at the Alexandria Schutzhund Club




German Shepherd swimming in a pool

AT LAST!!! More photos of Arnstein (Moe) and Ava (Dot)


We've been told that these guys move fast. But they could only evade the camera for so long. We are so excited to get these.
Arnstein av Stavnger "Moe"

Ava av Stavanger (Dot)
8 Months - German Shepherd Schutzhund Protection Progress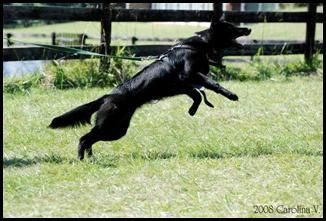 Anniken av Stavanger "Nicky" is learning the moves for Schutzhund. We have no doubt that she will make many fans during her future in the sport. Right from the beginning she was a little machine... just like her mother.